Troubleshooting My LearnPlatform Chrome Extension
LearnPlatform has created this troubleshooting guide to help you navigate the most common issues when installing the LearnPlatform Chrome extension.
If you have not yet installed the LearnPlatform Chrome extension for educators and students, please see Installing the LearnPlatform Chrome Extension.
When will I see data in my dashboard?
Once you've completed each step of the installation process, it may take up to two business days to verify your organization and domains and for data to flow into your Usage Dashboard. If you would like to learn more about accessing and interpreting usage data, see Accessing and Understanding Usage Data.
I'm not seeing data in my dashboard
Common errors include:
The extensions may have been pushed by error to the incorrect organizational units (OUs). Double check your installation steps to ensure that the right extensions have been installed for the right OUs (See Installing the LearnPlatform Chrome Extension). The LearnPlatform for Educators extension should be Force installed to your Teacher/Educator group (organizational unit) and your LearnPlatform for Students extension should be Force installed to your Students group (organizational unit).
LearnPlatform may need your domains. Your organization's student and faculty/staff domains need to be included in our system for your usage to match your organization. If you have not done so already, send your faculty/staff domains to the LearnPlatform team via support@learnplatform.com to be added.
If you have pushed the extensions before sending LearnPlatform your domains, you will need to contact LearnPlatform via support@learnplatform.com to have our team make the necessary corrections in the backend for your data to appear.
You may have not forced installed the extension. If you have decided to Allow install the Chrome extensions (typically due to a district guideline) instead of Force install, make sure to promptly communicate this with your teachers. If end users choose not to install the extension, it will not collect data for those educator accounts.
Kiosk mode does not run any forced installed G Suite extensions.
Students and educators are NOT logged into their Google accounts while using the Chrome browser (e.g. via an incognito window). Make sure that students and educators are logged into their Google Chrome accounts when accessing a web-based edtech product.
Only when educators and students are logged in to their Chrome accounts can we associate their usage data with your organization.
Students and educators are NOT accessing products via Chrome as a web browser. The LearnPlatform Chrome extension will not capture any data from web-based edtech products that are accessed via non-Chrome browsers like Mozilla Firefox, Opera, Safari, and others. For Microsoft Edge please follow these instructions.

The Chrome extensions also currently do not collect usage for non-web-based products and applications.

Chrome Sync should be enabled for the extension to capture data.
The Chrome extension is not pulling data for a specific product
LearnPlatform tracks product usage from the domain of a web-based product. Our Chrome extension will not be tracking usage for a particular tool if that tool has a custom domain or if our system has a different domain from the one your organization is using to access that product. If you intend to track usage for a particular product, our support team will be able to include that domain for you (below).
LearnPlatform will not create products to track specific custom domains. For example, LearnPlatform will track the product Khan Academy and all sub domains from khanacademy.org, but will not create the product Khan Academy - Springfield School District to match the organization's custom domain.
To confirm that the Chrome extension is not pulling usage data from a product, visit the site for that product and check at the LearnPlatform Chrome extension to see if it is active or not. If the Chrome extension is not active, meaning that it is not pulling data from a page visit, it will be grayed out. The chrome extension will light up if it is active and pulling data for that product site.

If you want to make sure that your LearnPlatform Chrome extension pulls data for a particular site, please send the following information to LearnPlatform via email at support@learnplatform.com:
Subject (optional): Add domain for a LearnCommunity Tool
Product Name
Product URL
Please allow for up to 48 business hours for the extension to pull data for that particular product.
I followed the installation instructions, but I still don't see the extension?
Check your Google Admin Settings and make sure your organization is set to allow extensions under Chrome Management for Signed-In Users and that your syncing is turned on (Chrome Settings > Sync and Google services > Turn On).
I'm missing data for some schools within my district
This may be a case where 1) that particular school has chosen not to share data with the district or 2) our system needs an updated educator list for that school.
When filtering your usage data by organization (see Filtering the Usage Dashboard), you may encounter that a school includes not sharing data after their name as they have chosen not to disclose usage data with the district. In this case, the district will not be able to access the data for the school.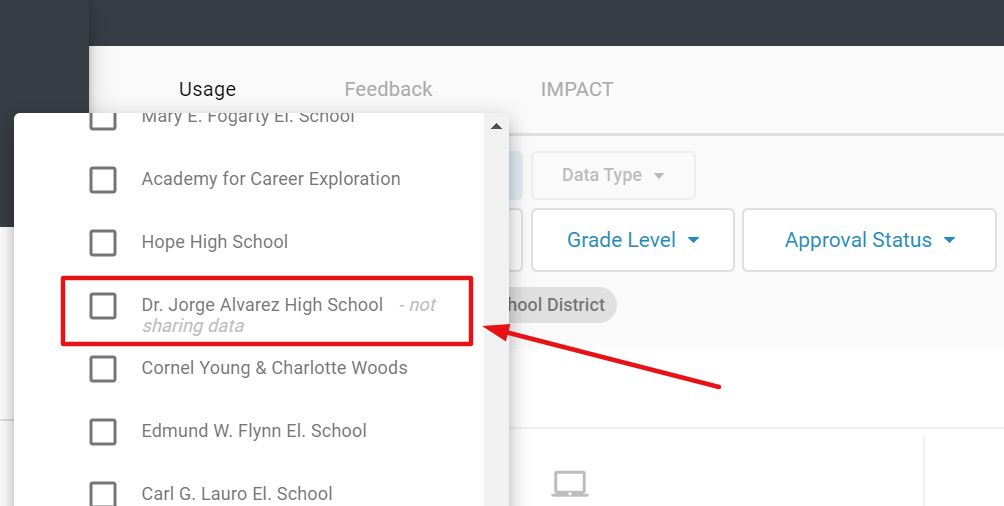 If a select group of educators from a particular school does not show up in your usage dashboard, it may be that we need to manually update your educator list and associate these teachers with a particular school within your district. If you would like to update your teacher list, please contact us via email at support@learnplatform.com asking for access to a SFTP folder for you to securely upload your updated teacher roster. Once you have access to an SFTP folder, please upload your file for processing. You can also automatically update your teacher and student rosters by connecting a OneRoster file to our platform. Speak with your LearnPlatform contact about this process.
Please keep in mind that updating educator lists could take up to 2 weeks to process.
---
---